594 Broadway
Building Contacts
Asset / Leasing Manager
Property Manager
Superintendent
Property Information
Located:

Mid-block between Houston and Prince Streets

Built:

1898

Renovations:

Lobby - 2000; Restrooms - 2011; Elevators - 2013; Windows - 2013; HVAC - 2015

Total Building Size:

250,000 SF

Floors:

12, 2 below-grade
45 West 34th Street is a historic building completed in 1907 by the architects Howells & Stokes. Recent capital improvements include a stunning new lobby, elevators, windows and common corridors. The building stands at twelve stories and 111,500 square feet. Featuring a stone façade with carved architectural detailing that highlight the windows of every floor. With boutique full floors that can easily divide, the building is an ideal option for both medium-to-small tenants alike.
Situated in the midst of the bustling 34th Street, the building caters to all tenants needs.
Tenants can enjoy a wealth of food, beverage and retail options seconds from the doorstep.
The address has easy access to many mass transportation links. These include the N,R,W,F,M, V and 6 subway trains, PATH trains as well as both Penn Station and Grand Central Station.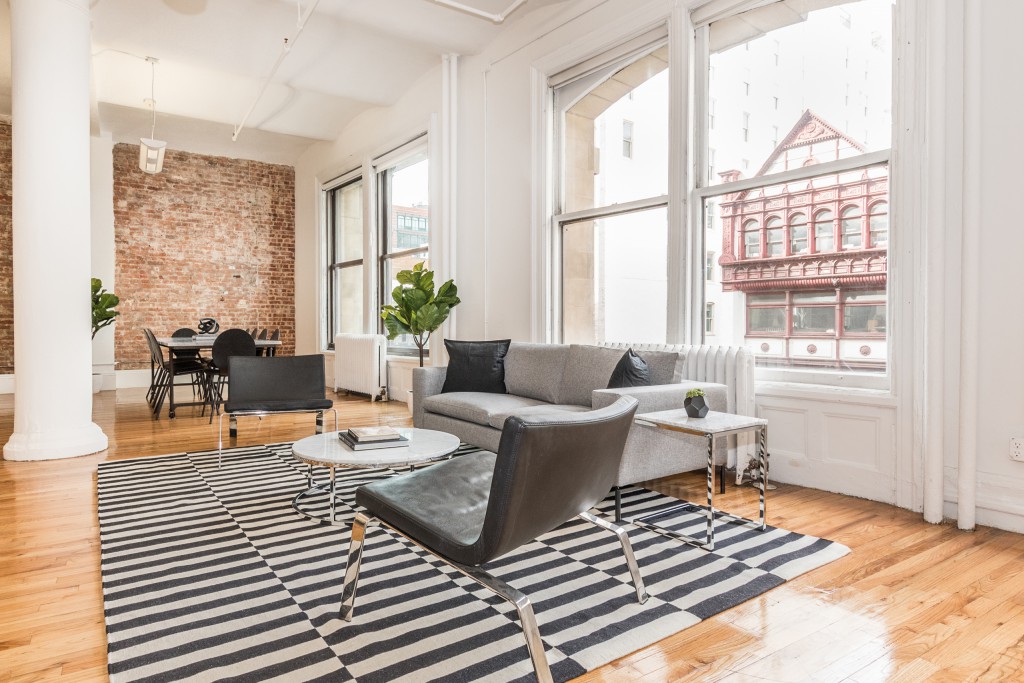 SOHO Office Space New York
Soho's famous, landmarked, cast iron buildings with their iconic fire escapes are among the finest in the world, and were originally home to the city's textile industry. As the textile merchants moved on, the neighborhood fell into decline until it was re-discovered by artists and gallery owners seeking sprawling spaces, who brought life back to the empty buildings.
Today, although some galleries remain, the district south of Houston Street is alive with commerce as one of the city's great retail meccas, drawing heavy footfall from across the city and the world. High-end international fashion retailers line the streets, with Prada's Rem Koolhaas-designed flagship, Balenciaga, Versace, Louis Vuitton and many more showcasing the finest in fashion. Along Broadway shoppers head to Nike, Converse, Zara and H&M, plus Bloomingdale's Downtown store, and those not after apparel are drawn to Apple, the MoMA Design Store, or to browse in the Housing Works Bookstore.
Interspersed within you will find luxurious boutique hotels and numerous restaurants, bars and cafés that serve the bustling neighborhood. In floors above the ground floor retail, offices and lofty residential space are among some of the most coveted in Manhattan. Commercial tenants in the area include Estée Lauder and the world's largest children's book publisher Scholastic.