318 West 39th Street
Building Contacts
Asset / Leasing Manager
Property Manager
Superintendent
Property Information
Located:

West 39th Street between 8th and 9th Avenue

Built:

1915

Renovations:

Restrooms - 2018

Total Building Size:

180,000 SF

Floors:

8, 1 below-grade
318 West 39th Street was built in 1915 by the architectural firm of Crow, Lewis, & Wickenhafer on the former site of the Finck Brewery and was originally named the Finck Building. The 8-story building's façade features classically inspired architectural detailing and a welcoming, modernized lobby. Building tenants include the famous bridal designer Amsale as well as Barbara Bush's non-profit organization, Global Health Corp. Situated in the historic Garment District, the building is conveniently close to many area amenities, including the trendy eateries of Hell's Kitchen, and ample transportation links including A, C and E trains on Eighth Avenue, the Port Authority Bus Terminal and nearby Times Square-42nd Street station.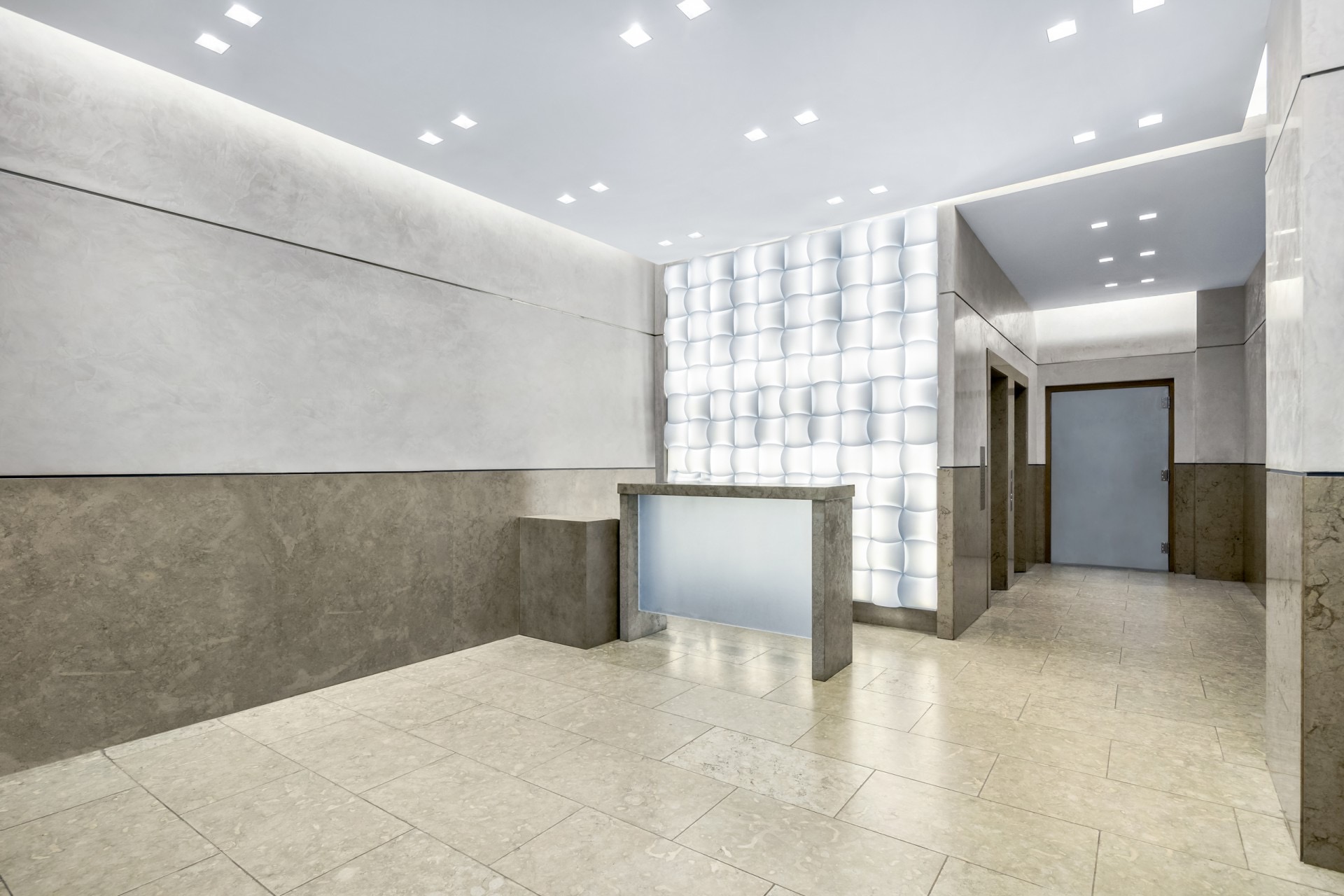 Garment District Office Space New York
The Garment District lies at the heart of the commuter triangle, marked by Penn Station, Grand Central Station and Port Authority Terminal. Situated between Fifth Avenue and Ninth Avenue, from 34th to 42nd Streets, this area is also known as the Fashion District. It has a rich history as home to showrooms, fashion design and production houses, as well as garment wholesalers. Well-known labels like Carolina Herrera, Calvin Klein and Donna Karan among others all maintain a collection of showrooms, production centers and offices in the area.
Even with its rich history in fashion, the economics of manufacturing have changed over the years, so the district has seen an influx of other businesses, including media, creative agencies, law firms and tech. Even so, local sample sales still prove popular with workers and residents.
Art plays a vital role in the area with Space for Public Art – a street-level space for local artists and designers to grab the attention of passers-by – and Bene Rialto, featuring emerging brands, an educational co-working space and experiential event space. For a mix of art and café culture, MacarOn Café and Café Grumpy are popular destinations.
For mainstream retail all needs are met at 34th Street and Herald Square. Bryant Park to the east offers open space and seating to meet and relax, alongside the stunning New York Public Library's main building and its 50 million-plus catalog.
The major transportation hubs at Penn Station and Times Square serve the Garment District, with access to 1,2,3,A,C,E,N,Q,R and W trains, plus connection to New Jersey Transit, Amtrak, and Long Island Rail Road. Metro-North Railroad can be accessed from Grand Central Terminal.