100 Crosby Street
Availabilities
We are sorry, there are no current availabilities at this building.
Thank you for registering
If you would like to be alerted when space at this building becomes available, please enter your email address.
Building Contacts
Asset / Leasing Manager
Property Manager
Superintendent
Property Information
Located:

Southeast corner of Prince Street and Broadway

Built:

1884

Renovations:

Elevators - 2016; Lobby - 2016; Windows - 2018; Common corridors and restrooms - 2017

Total Building Size:

175,000 SF

Floors:

8, 2 below-grade
100 Crosby Street, formerly known as 560 Broadway, was completed in 1884 by architect, Thomas Stent in a neo-Grecian style. The building was recently reconfigured and fully renovated, moving its main entrance and lobby from Broadway to Crosby Street. Located in the Soho cast-iron historic district, the building's new lobby and entrance celebrate the unique architectural character of the surrounding neighborhood featuring materials such as backlit "bullet-glass", exposed brick, white marble and large original timber beams that were salvaged during renovation and hung from the lobby's ceiling.
Perhaps best known for once housing the upscale Soho grocer Dean & DeLuca on the Southeast corner of Prince Street and Broadway, the building is now home to the famous shoe brand, Converse.
Situated in the trendy neighborhood of Soho, considered Manhattan's iconic shopping mecca, 100 Crosby Street is surrounded by numerous retail and dining options. Commuting is made easy to and from anywhere in the city with access to the R and W trains at the building and the 6 train only one block away.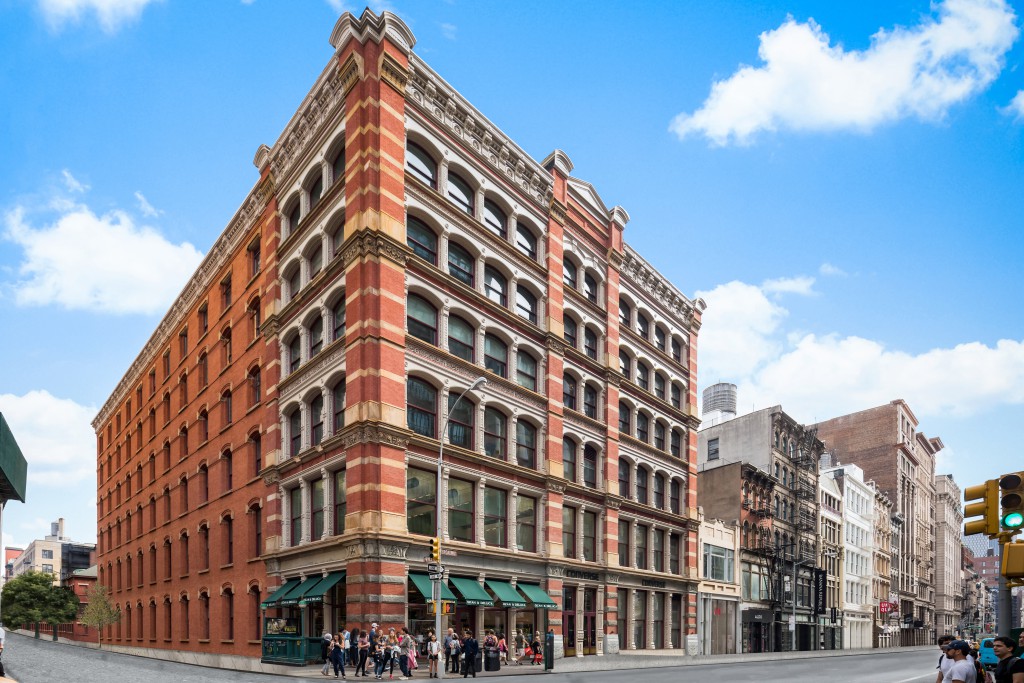 Soho Office Space New York
Soho's famous, landmarked, cast iron buildings with their iconic fire escapes are among the finest in the world, and were originally home to the city's textile industry. As the textile merchants moved on, the neighborhood fell into decline until it was re-discovered by artists and gallery owners seeking sprawling spaces, who brought life back to the empty buildings.
Today, although some galleries remain, the district south of Houston Street is alive with commerce as one of the city's great retail meccas, drawing heavy footfall from across the city and the world. High-end international fashion retailers line the streets, with Prada's Rem Koolhaas-designed flagship, Balenciaga, Versace, Louis Vuitton and many more showcasing the finest in fashion. Along Broadway, shoppers head to Nike, Converse, Zara and H&M, plus Bloomingdale's Downtown store, and those not after apparel are drawn to Apple, the MoMA Design Store, or to browse in the Housing Works Bookstore.
Interspersed within you will find luxurious boutique hotels and numerous restaurants, bars and cafés that serve the bustling neighborhood. In floors above the ground floor retail, offices and lofty residential space are among some of the most coveted in Manhattan. Commercial tenants in the area include Estée Lauder and the world's largest children's book publisher Scholastic.
Subway connections to Soho are numerous with the 4, 6, B, D, F, M, N, R, A, C and E trains all servicing this vibrant district.