1560 Broadway - Actors' Equity Building
Building Contacts
Asset / Leasing Manager
Property Manager
Superintendent
Property Information
Located:

7th Avenue between West 46th Street and West 47th Street; Building Entrance on West 46th Street

Built:

1924

Renovations:

Lobby - 2014; Restrooms - 2017; Destination Dispatch Elevators - 2019

Total Building Size:

271,000 SF

Floors:

17, plus penthouse, mezzanine, 1 below-grade
1560 Broadway was built in 1925 and designed by the Bethlehem Engineering Corporation. It is a historic, 17-story building located in the heart of Times Square. Home to Actors' Equity, 1560 Broadway underwent major redevelopment in 2014 and was connected to the neighboring landmarked I. Miller Building by architects Rosen Johnson. The ambitious project included the addition of a monumental new office entrance, a 100-foot-long fourth floor sky lobby served by shuttle elevators and providing direct dispatch elevators to the top floors, and the opening up of four contiguous floors of prime Times Square retail space, created by moving the original office entrance, to deliver significant street presence. Positioned at the center of the Theater District, 1560 Broadway is a landmark of commerce that now takes an even more prominent place in this always vibrant location, drawing people to world-renowned shows, major retailers and a multitude of eateries. Numerous subway lines at nearby 42nd St-Times Square, Rockefeller Center, 49th Street and Port Authority provide fast transportation links with all areas of Manhattan and beyond.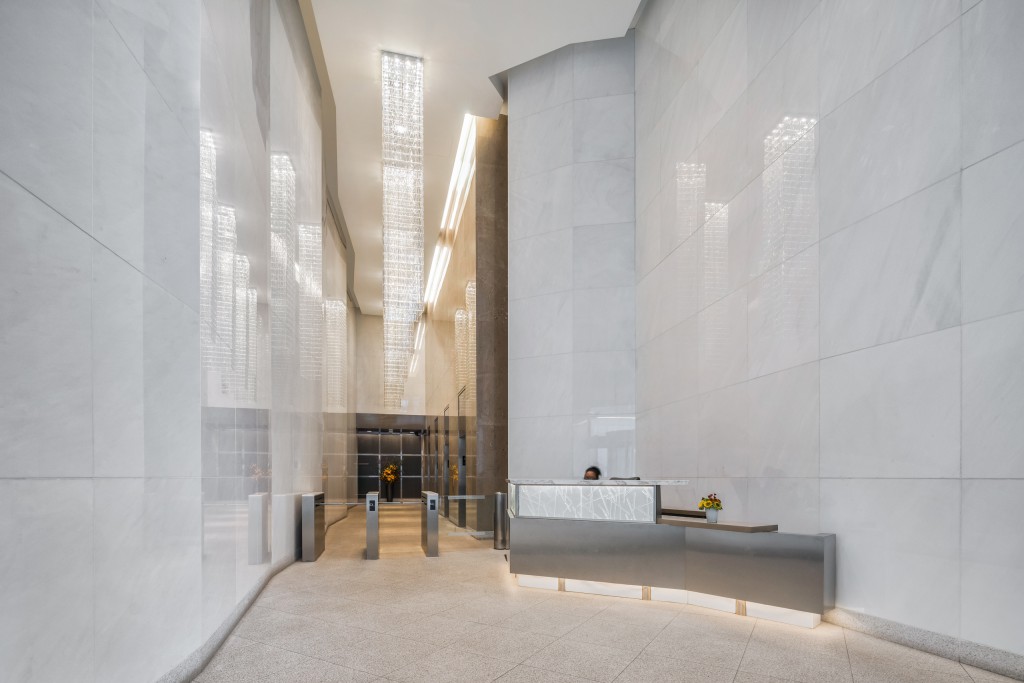 Times Square Office Space New York
The district surrounding the world's most famous square is also the world's most visited place and home to the city's Broadway Theater District plus a host of global corporations. Filled with towers that climb high into the sky and are lit to take any visitor's breath away, the district is what many think of when they think of Manhattan.
The Square, named after the original New York Times Building on 42nd Street, is in fact two triangles formed at the intersection of Seventh Avenue and Broadway, stretching from 42nd Street to 47th Street. The building is a globally-recognized advertising location and site of the much-watched New Year's Eve ball drop.
Times Square is also a center of entertainment, including Times Square Studios where Good Morning America is produced, and MTV Studios, part of One Astor Plaza, also home to the Viacom headquarters and the Minskoff Theater. Corporate neighbors include Morgan Stanley, Ernst & Young and the New York Times.
The area is filled with familiar chain restaurants and large-scale eateries, most popular being Carmine's for family-style Italian and Churrascaria Plataforma for large groups after a taste of Brazil. However on side streets, smaller old-world icons and independent restaurants cater to the theater and after-work crowd, including Sardi's on West 44th Street, the elegant Lantern's Keep at The Iroquois Hotel and the hidden-away Bar Centrale above Joe Allen where you're likely to spot a stage star.
The area is served by the vast Times Square – 42nd Street transportation hub and offers service on 1, 2, 3, 7, A, C, E, N, Q, R, W and S trains, as well as access to interstate bus services at Port Authority Bus Terminal.